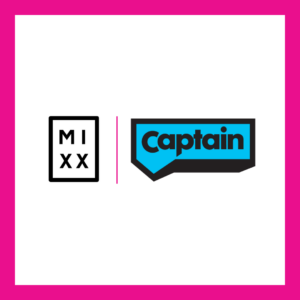 New York, New York. January 5, 2023 -- The Mixx, a leading certified-diverse strategic creative agency and founding member of Titanium Worldwide, announces today the acquisition of Captain Creative Group, a certified-diverse experiential, production, and communications agency.
The acquisition unifies these two longtime partner agencies rooted in diversity, equity, and inclusion, to deliver full-service marketing expertise backed by exceptional creative and unmatched strategy to brands looking to reach new and diverse audiences.
"We are two agencies that put relationships first. For 26 years, The Mixx has been working to help create the world we want to live in – to help brands realize that DEI isn't just a moment in time, but a movement," explains Robyn Streisand, CEO, The Mixx. "Captain Creative Founder and CEO Lisa Foti and I have been lifelong friends and collaborators in inclusivity and creativity. Merging comes naturally, as our work becomes even more impactful when we approach it together."
With this acquisition, Robyn Streisand continues as Chief Executive Officer of The Mixx and Lisa Foti joins as Director of Operations, delivering greater operational efficiencies along with expanded services. Captain partner and Chief Creative Officer Brian Wrensen joins The Mixx's growing creative studio, playing a pivotal role in building out creative capabilities.
Captain Creative brings industry experience in marketing communications, experiential events and production design for life sciences, technology, and consumer brands. The Mixx delivers impactful creative across vertical markets and industries for enterprise-level clients. Both agencies take an audience-centric, human-focused approach to marketing, helping large legacy brands evolve for good to meet the demands from today's customer.
Strategic creative services include DEI consulting and multicultural programming; audience segmentation and engagement; brand story, strategy, creative, and marketing; content messaging strategy and development; digital and social campaigns.