by Olympia Lambert
My last time setting foot in Atlanta was a less-than eight-hour whirlwind visit back in 2017, so this time with a three-day stint, I knew I had to make the most of my time there.
And boy, did I ever.
As no stranger to the WBENC Conference over the years, and coming out of our past two-year Covid layover, (or should I say hangover) Atlanta was a destination in itself – giving Fortune 100 brands, women business owners and entrepreneurs the chance to put their best foot forward in-person, connecting in a way that 1,000 Zoom sessions simply can't accomplish.
Landing Monday afternoon in a JetBlue rock n roll turbulent shakeup, before the skies opened up to a torrential Dirty South rainstorm the likes my Central Floridian self hadn't seen in years, my ears kept playing Andre 3000's 154 beat per minute "B.O.B." verbal assault with each step I took…
Who want some? Don't come unprepared
I'll be there, but when I leave there
Better be a household name
Weather man tellin' us it ain't gon' rain
So now we sittin' in a drop-top, soakin' wet
In a silk suit, tryin' not to sweat
Hit somersaults without the net
But this'll be the year that we won't forget
Yeah, I came prepared. And when I left there, myself and The Mixx were a household name.
Why?
Because this year we (and I) tried something new.
Bigger and badder than ever, the Georgia World Congress Center is a behemoth of a landscape, featuring square footage out of one of those dreams you have where the halls seem to go on forever.
Behind door number 1, 2, 3… err, 37, 45, lies an unknown narrative trajectory or denouement.
It's easy to both get lost AND get lost in the crowd.
You have to find a way to stand out , so our intrepid team formulated some simple solutions to help get noticed.
Not only did I get my first ever gel manicure boasting our noted "Mixx Pink," but yep, I was in that "silk suit tryin' not to sweat" – drippin' the drip with a branded look, confidence, and swagger necessary to stand out in a crowd. Though I'm always about being authentic, I do enjoy looking the part, even if the blisters on my feet don't after walking all day in heels.
Our well-known CEO Robyn Streisand exudes Mixx branding in everything she wears, too, from her hot pink rimmed glasses and nails right down to her stilettos, so it was a lot of fun getting the chance to do some twinning via our brand color that pops.
The Mixx's creative team is likewise always about pushing the envelope, and no one sheeter, capes deck, or business elevator pitch I do is going to do what we actually do justice as a creative agency, unless we bring it to life.
So that they did – arming me with a rapid-fire sizzle reel that likewise boasted a heavy beats per minute get up and go aesthetic that put our best foot forward so we wouldn't be forgotten.
After playing, every single company I met with had the same reaction. "Wow. That was great." "You guys work with some big brands." "This is amazing creative. Let me introduce you to X, X and X."
Because one thing as a business development rep – you're never selling you – you're selling your differentiation factor – which in my case is the strategic messaging and creative team behind me and the amazing service they provide.
And even better – these stakeholders were seeing just that.
We were no outcasts (or Outkast), and were having our "Hey ya!" moment.
Even better, having a living and breathing resume on the convention floor helps.
Our work for Bristol Myers Squibb (BMS) was front and center, their booth featuring our "Partnering with Purpose" platform that showcases the value of working with diverse suppliers – both for the individual companies themselves (where a new PO can sometimes mean the difference between shutting down or staying in business), as well as demonstrating the value diverse suppliers brings to BMS employees, patients and more.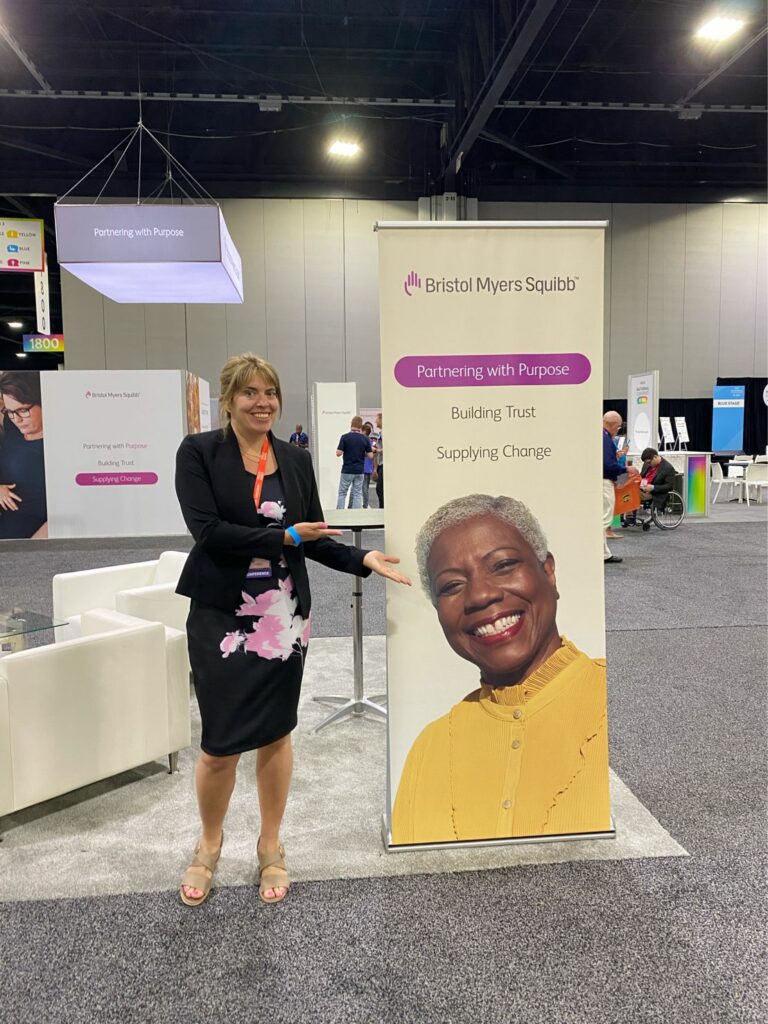 Because that in itself is the real message behind WBENC.
As a woman-owned business enterprise that is also minority owned and operated with a commitment to doing business for good (see our NGLCC and B-Corp certifications), WBENC provides an open door to agencies such as ourselves that wouldn't be there otherwise, and that's why conferences like this are so important and need to continue to grow.
They give a voice to those who sometimes don't get the chance to pitch when we're up against the big guys and famously non-diverse holding companies.
2022 is showing, though, that companies are finally starting to change WHO they want to work with and are actively seeking agencies who not only can market to a more inclusive consumer base, but are from that base themselves.
Major props to some of the longstanding companies that have been supporting supplier diversity a long time – including BMS, Target, P&G, and more – as well as those fellow big names who are now making the necessary changes in their sourcing process to expand the list of who they work with so it is more diverse and authentically represents who they are speaking WITH, not just TO.
Finally, as the founding agency of the Titanium Worldwide Agency Collective, my colleague Emily Locke and I had the opportunity to showcase throughout the conference our tag-team approach of where and when The Mixx comes in from a strategy and creative perspective, and when Titanium does to showcase our expanded breadth and depth of capabilities via our fellow-minority owned and operated (and certified ) agency partners.
Though I lost my voice to new epic proportions after Thursday, I can't say enough about the value WBENC brings to agencies such as ourselves, and huge thanks again to all our colleagues, clients and friends who showed up and showed out with us.