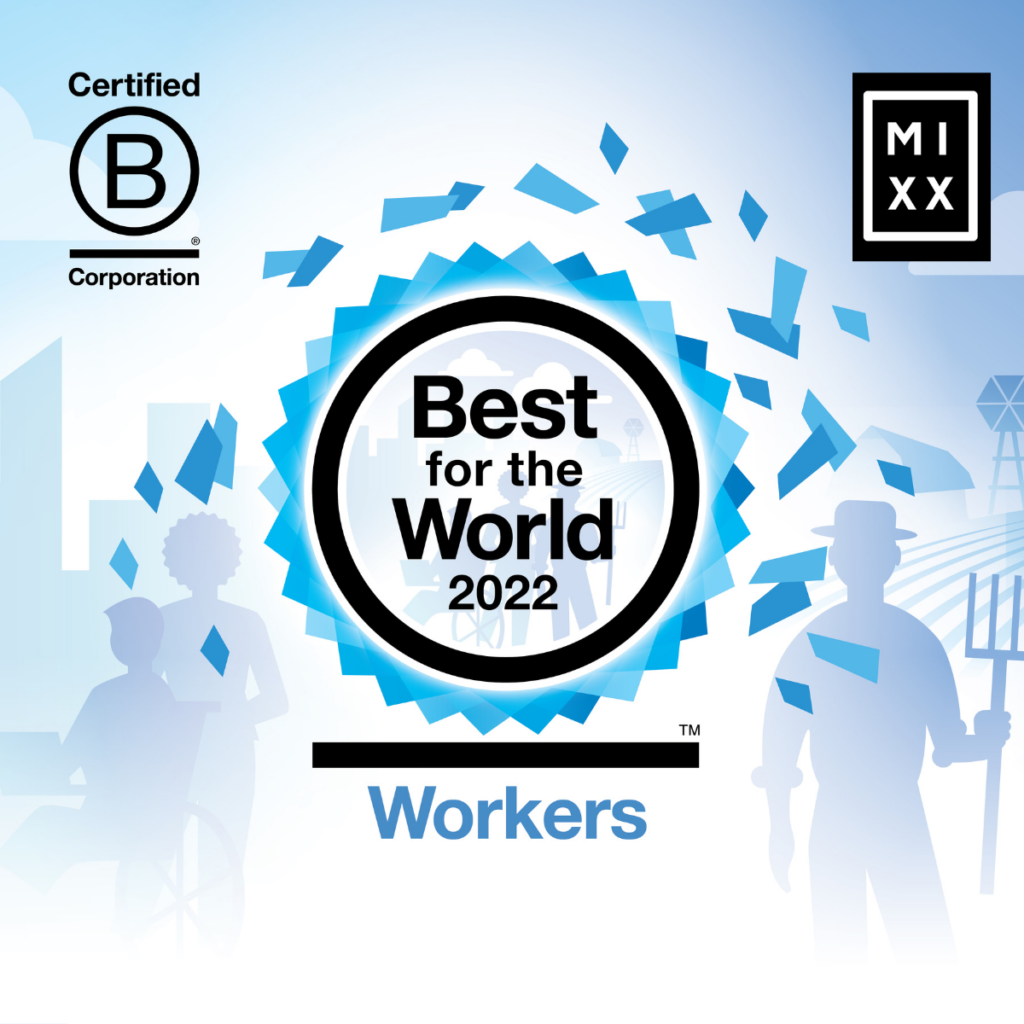 [New York, July 13, 2022] -- The Mixx, a New York City ad agency, has been named a 2022 Best for the World™ B Corp™ in recognition of its "exceptional positive impact on its workers." Best for the World is a highly acclaimed distinction granted by B Lab to Certified B Corporations (B Corps) whose verified B Impact Scores rank in the top 5%.
"Each Best for the World edition is an opportunity to raise the bar for how businesses can and should operate to create real and lasting positive impact for their workers, customers, communities, and the environment," said Dan Osusky, Head of Standards and Insights at B Lab Global. "While no company is perfect and even the best companies can and should continue to strive to improve, the B Corps recognized as Best for the World can provide us all — standards setters, B Corps, non B Corps, and sustainability advocates — with inspiration on what true leadership in business can look like to make progress on addressing our current global challenges."
The Mixx was honored for a commitment to its team and specifically recognized for employee-centric initiatives such as a summertime four-day work week policy to promote continued creativity while facilitating balance, engaging off-site team-building events like Mixx Miami, and a home office renovation stipend to support a productive hybrid working environment, and CFOO Alina Panas shares that the company's success in this category is rooted in how they view their team: "Our business is all heart and our ongoing commitment to our team is the core of who we are. Our people are our most important asset. The intentionality, thought, and resources we provide to help our employees thrive both inside and outside of work is what makes us successful."
Every year, Best for the World recognizes the top-performing B Corps creating the greatest positive impact through their businesses. More than a badge of honor, Best for the World provides an opportunity for recognized companies to share knowledge, learnings, and best practices with the B Corp community and businesses outside of the community to encourage innovation and transformation across the business sector.
The Best for the World recognition is administered by B Lab, the global nonprofit network that certifies and mobilizes B Corps, which are businesses that meet high standards of positive social and environmental performance, accountability, and transparency. Today, there are more than 5,000 B Corps across 80 countries and 155 industries, unified by one common goal: building an inclusive, equitable, and regenerative economic system.
---
About The Mixx: The Mixx is a certified diverse (WBENC and NGLCC) NYC-based creative agency that delivers impactful and purposeful branding, marketing, and culture and communications programs to internal and external audiences alike. Our bold and human-centered design approach features insight-driven and evidence-led strategy which connects brands with both new and existing audiences.
Contact:
Olympia Lambert
olympia.lambert@themixxnyc.com
---
About B Lab: B Lab is transforming the global economy to benefit all people, communities, and the planet. A leader in economic systems change, our global network creates standards, policies, tools, and programs for business, and we certify companies — known as B Corps — who are leading the way. To date, our community includes 400,000 workers in over 5,000 B Corps across 80 countries and 155 industries, and more than 200,000 companies manage their impact with the B Impact Assessment and the SDG Action Manager. B Lab has created and led efforts to pass over 50 corporate statutes globally that enable stakeholder governance, with over 10,000 companies using the legal framework. To learn more and join the movement, visit www.bcorporation.net.